Regular price
Sale price
$18.00
Unit price
per
Sale
Sold out
Light Roasted Peaberry Bourbon  Coffee Variety Curated by Heza Station (Long Miles Coffee Project)
250g €15,50 (1kg/ €62) 
Peaberry is an oval-shaped coffee bean that develops singly from the cherry of the coffee plant. It is said to be enriched with all of the nutriments of the cherry, and often contains a higher amount of caffeine than other beans, as well as a more pronounced sweetness. Typically, around 5% of all coffee beans harvested are of this form. As a result, farmers often find themselves unable to produce a large enough quantity to produce a single farm lot, but Long Miles Coffee Project in conjunction with the farmers of Mikuba Hill have gone literally  and extra mile to bring a truth representation of the potential of this part of Kayanza  with this truly unique Bourbon Peaberry Coffee Variety.
Variety

What is peaberry?
Peaberry is a type of coffee bean. Normally the fruit ("cherry") of the coffee plant contains two seeds ("beans") that develop with flattened facing sides, but sometimes only one of the two seeds is fertilized, and the single seed develops with nothing to flatten it. This oval (or pea-shaped) bean is known as peaberry.

This Peaberry coffee beans are Bourbon variety,
Bourbon is the most famous of the Bourbon-descended varieties. It is a tall variety characterized by relatively low production, susceptibility to the major diseases, and excellent cup quality. French missionaries introduced Bourbon from Yemen to Bourbon Island (now La Réunion)—giving it the name it has today—in the early 1700s. Until the mid-19th century, Bourbon did not leave the island. But beginning in the mid-1800s, the variety spread to new parts of the world as the missionaries moved to establish footholds in Africa and the Americas. The Bourbon variety was introduced to Brazil around 1860, and from there rapidly spread north into other parts of South and Central America, where it is still cultivated today. Here it became mixed with other Bourbon-related varieties, introduced from India as well as Ethiopian landraces. Nowadays, there are many
Bourbon-like varieties found in East Africa, but none exactly match the distinct Bourbon variety that can be found in Latin America. Today in Latin America, Bourbon itself has largely been replaced by varieties that descend from it (notably including Caturra, Catuai, and Mundo Novo), although Bourbon itself it is still cultivated in El Salvador, Guatemala, Honduras, and Peru.

Sourced by worldcoffeeresearch.org

Process details

To fully understand how Long Miles Coffee Project process their coffees, we need to first mention their program called "THE SCOUTS"
Prosper is one of the Coffee Scouts working alongside the coffee farming families on Mikuba hill, teaching them how to take care of their coffee trees and produce quality coffee. He has been empowering farmers with sustainable farming practices, helping them to understand the importance of planting shade trees, green manures and to seasonally mulch their land and prune the coffee trees. During coffee harvest, he stands side by side with farmers, guiding them through the cherry-picking process. He has also taught farmers how to spot and catch antestia bugs, the colorful bugs thought to be behind the potato taste defect.

Natural Process
Freshly harvested cherries are delivered by coffee farmers to the Long Miles Coffee Washing Station (Heza Station for Mikuba Hill), then floated and hand-sorted for ripeness upon arrival.Then taken straight to the drying tables. The whole coffee cherry spends between twenty-five to thirty days drying in its own skin, slowly turning from a deep red to a prune-like purple-black once its fully dry and at the preferred 10.5% moisture level.

Location

Origin: Burundi
Farm: Mikuba Hill
Region: Kayanza, Burundi
Altitude: 1900 - 2100 m.s.l.
Coffee Supply Chain

Actors involved in the coffee supply chain
Long Miles Coffee Project - Osito - Lucky Cat - YOU 🫵🏼
View full details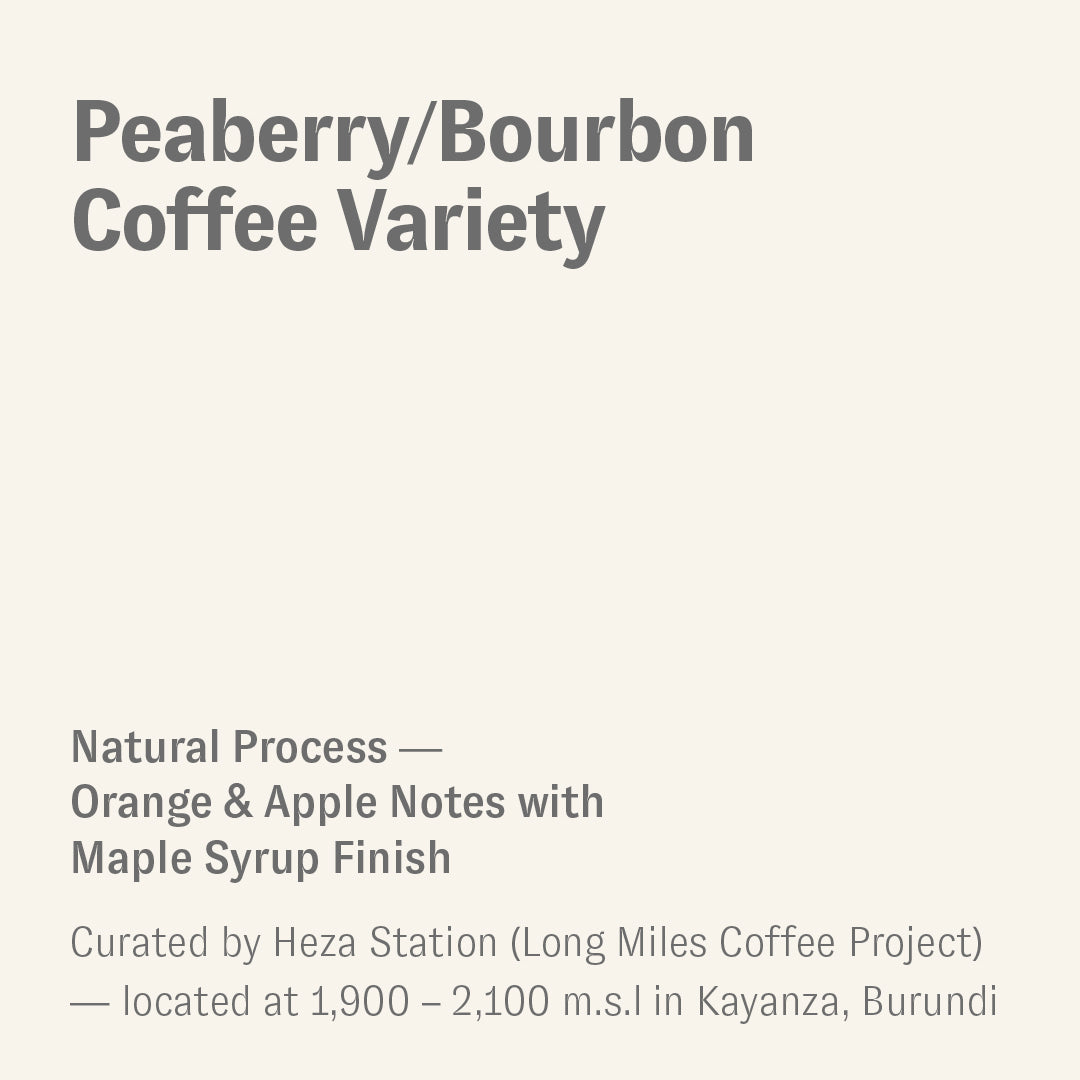 Free Shipping

In Germany for orders above €32 Free shipping.
In EU for orders above €62 Free shipping.